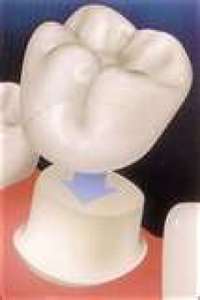 Crowns are a dental restoration that covers or "caps" a tooth to restore it to its normal, shape, size and function. It's purpose is to strengthen or improve the appearance of a tooth.
Crowns can:
Restore a tooth when there isn't enough tooth remaining to provide support for a large filling
Attach a bridge to replace the missing teeth
Protect a weak tooth from fracturing
Restore a fractured tooth
Cover a badly shaped or discolored tooth
Cover a dental implant
One visit crowns are now available in our office using the lastest dental technology called CEREC.
Messy impressions or temporaries are no longer needed with this CEREC technology.
One visit is all you need and you will leave our office with a long lasting, highly aesthetic all-ceramic crown.