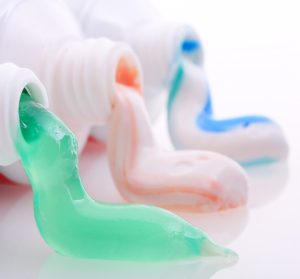 We are all familiar with toothpaste (or at least we should be). However, have you ever wondered what toothpaste really does? Especially with all the different types to choose from on the store shelves.
What does fluoride toothpaste do?
Fluoride fights too decay and strengthens tooth enamel.
Can tartar fighting toothpaste prevent gum disease?
Unfortunately no. Tartar fighting toothpaste can only reduce additional tartar buildup above the gumline, but not below it. This is why regular flossing and routine teeth cleanings are imperative.
Are whitening toothpastes okay for sensitive teeth?
No. Most whitening toothpastes contain a higher level of abrasives. Instead use a toothpaste designed for sensitive teeth.
Does The American Dental Association test toothpastes?
Yes. The ADA Seal of Acceptance means they meet specific criteria for safety and effectiveness.
Why do children's toothpastes come in fun flavors?
Yes. Fun flavors encourage brushing in children. However, use only a pea size amount and don't let them swallow too much.
Have other questions about what toothpaste would be best for you? Talk to one our of dental hygeniests to find the right fit for you.